MISSION FEMALE
Frauen. Macht. Karriere.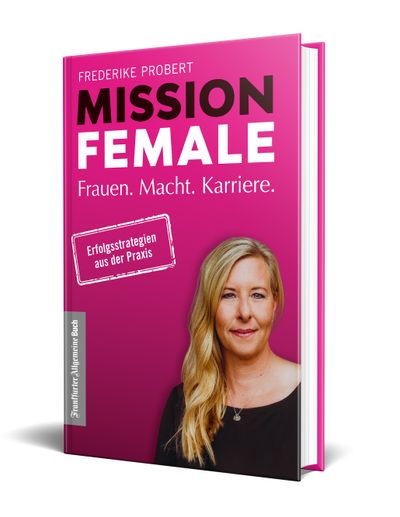 Falsche Versprechen, versteckte Barrieren und patriarchale Strukturen – die Unternehmerin Frederike Probert kennt alle Karrierekiller, die Frauen auf ihrem Weg nach oben begegnen. Sie weiß ebenfalls, wie man diese aktiv beseitigen kann und kämpft dafür, dass Frauen in Führungspositionen zur Normalität werden.
Finden Sie Ihre persönliche Strategie zum Erfolg: Vom Berufseinstieg über das mittlere Management bis zum Top-Management. Kenntnisreich und vor dem Hintergrund ihrer eigenen Laufbahn entwickelt Frederike Probert in ihrem Sachbuch einen praktischen Leitfaden für unterschiedliche Karrierephasen, der gleichermaßen Frauen und Unternehmen an allen beruflichen Wendepunkten als Wegweiser dient.
Das Vorwort hat Douglas CEO und Mission Female Netzwerk-Mitglied Tina Müller verfasst. Zahlreiche Interviews mit weiteren bekannten Führungspersönlichkeiten aus Wirtschaft, Medien und Politik zeigen: Gemeinsam sind Frauen stark. Lassen Sie sich von dieser Überzeugung mitreißen!
ONLINE TALK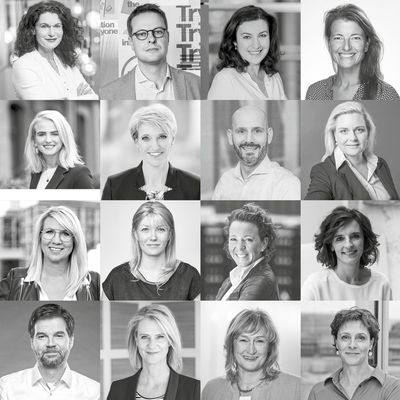 When women make a career, they have to endure more headwinds than their male colleagues. But is that all that is preventing them on the way up? Is more commitment and willpower enough to break through the glass ceiling? Or does the system thwart women on the way up?
Frederike Probert shares practical experience with well-known personalities from the book, discusses different career strategies and finds solutions for more women at the top of the company. We expect i.a. The following guests for our interactive lunch sessions every six weeks on Tuesdays from 1 p.m. to 2 p.m. CET:
Philip Missler (Pinterest), Wybcke Meier (TUI Cruises), Stefanie Kuhnhen (Grabarz&Partner), Dr. Ralf Belusa (Hapag-LLoyd), Manuela Rousseau (Beiersdorf), Kasia Mol-Wolff (EMOTION), Jan Ising (Accenture), Nora-Vanessa Wohlert (EDITION F), Tina Müller (Douglas), Dorothee Bär (Digital Minister), Petra von Strombeck (New Work SE) and many more.
FREDERIKE PROBERT
Frederike Probert ist eine erfolgreiche und engagierte Unternehmerin in der digitalen Industrie und Expertin für Gender-Diversity-Themen. Sie war in den letzten 15 Jahren in führenden Positionen für internationale Unternehmen wie AOL, Microsoft und Yahoo tätig und gründete ihre eigenen Technologie-Unternehmen in der Digitalbranche. Sie setze sich als eine der wenigen Führungsfrauen in einer absoluten Männerdomäne erfolgreich durch.
2019 gründete Frederike Probert Mission Female, ein exklusives Wirtschaftsnetzwerk für Frauen in Führungspositionen mit dem Ziel, Frauenkarrieren sichtbar zu machen und zu stärken. Das Netzwerk bringt erfolgreiche Top- Managerinnen aus Wirtschaft, Kultur, Medien, Politik und Wissenschaft in Deutschland, Österreich und der Schweiz persönlich zusammen, damit sie sich gegenseitig aktiv in ihrer Karriere unterstützen.